Q: How long are the CareerSpots videos?
A: The videos are about 1 minute to 3 minutes in length.
Q: Can we choose the videos we want if we do not want to license the largest video package available?
A: Yes, if you choose to license any of our smaller video packages then you can choose the videos you desire from the full list.
Q: Do the videos need to be password protected on our career center website?
A: No, but if you want to password protect them you can.
Q: Are the videos closed captioned?
A: Yes, the videos are all closed captioned AND they also include video transcripts for the 50 Job Search and 24 Internship videos.
Q: Where can we feature our CareerSpots videos?
A: You can feature them on your career center website, career center Facebook fan page, career center Twitter page, career center LinkedIn page, student job board, student portal, in emails to students, seminars, workshops, individual counseling sessions, Power Points for students, and your faculty can teach with them in the classroom. Here is a Marketing Wheel that highlights the many ways you can engage your students: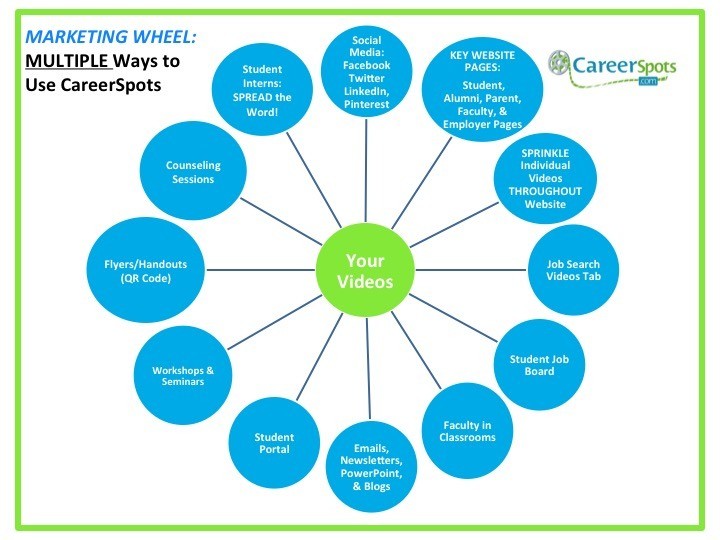 Q: How do career centers track video views?
A: Your school's custom admin page lists the total number of videos viewed for your school on an ongoing basis as well as the total number of each video viewed.
Q: How often can we see the viewing metrics?
A: They are available 24-7. You simply log into your school's admin page to see them.
Q: What do the NEW, advanced viewing metrics include?
A: For a small additional fee, the advanced viewing metrics are now offered and include the ability to enter date ranges to review your viewing metrics and also show devices, browsers, and what time of day the videos are used.
Q: Do you provide marketing materials to the schools?
A: Yes, we make it easy, by providing marketing language for career center flyers, emails, and newsletters as well as short teasers for your social media sites, plus quick tips and transcripts for your videos.
Q: How long is the license agreement?
A: Our license agreements are a minimum of one year, but you can choose to license for two to three years if desired at a discounted rate.
Q: Do you accept credit card payments?
A: Yes, you can pay by credit card or check.
Q: How does the licensing process work?
A: Once we receive your signed agreement and payment OR P.O., we send you the CareerSpots Best Practices and set up a 30 minute training call with your director, key staff, and web person who will be embedding the videos on your website, social media sites, student job board, student portal, and much more.
Q: Are multiple year contracts available?
A: Yes, we currently offer 2 and 3 year contracts that include discounts in the 2nd and 3rd year.
Q: Where do we get the videos for our career center website?
A: We set up a custom admin page for your career center which includes your video links, viewing metrics and the ability to customize your videos AND video player with your school logo.
Q: Are the videos easy to install on our career center website?
A: Yes, it is simple; there is literally one line of html code per video which your web developer places in the MULTIPLE recommended locations.
Q: Do you guide career centers with set up and offer support?
A: Yes, we send schools the CareerSpots Best Practices which outlines how to most effectively use your videos for optimal results, and we do a training call. PLUS, we offer ongoing phone and/or email support to answer any questions.