Our Founder
CareerSpots Founder and President, Kathy Egan, harbors a lifelong enthusiasm for mentoring students and preparing them for the working world. As a mother of four children, Kathy has worked with students from one of her earliest jobs as a youth counselor in a summer jobs program. She mentored students throughout her television news career from 1984 to 2000 and for the past 12 years at CareerSpots. Kathy founded CareerSpots in 2007, combining her passions for video production, mentoring, and education to assist students in developing lifelong career readiness skills. As the industry leader in online career advice videos, CareerSpots has partnered with hundreds of universities and colleges in the U.S. and abroad to prepare millions of students for the transition from school to career.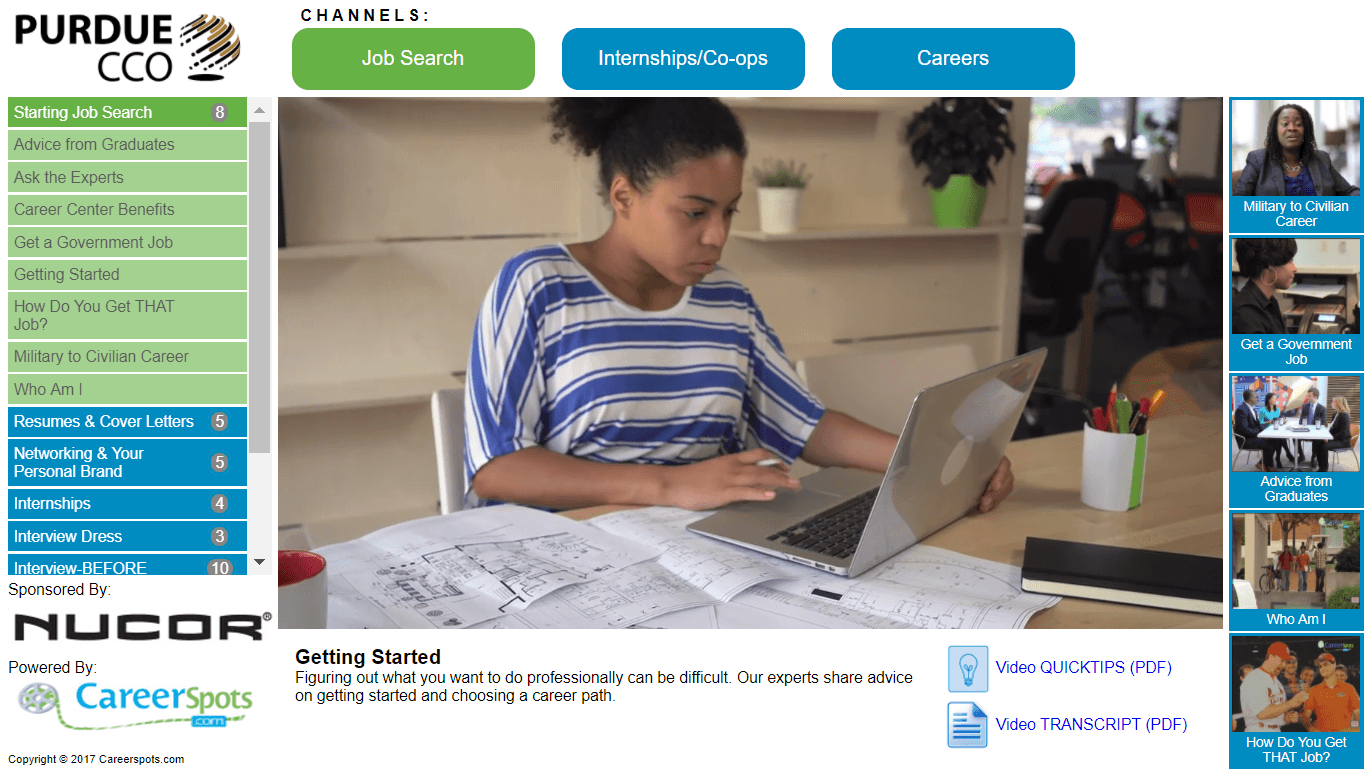 Who We Are
CareerSpots is a Pennsylvania-based company that specializes in creating and producing original video content via the internet and other emerging technologies. Our dedicated team of highly experienced video producers, photographers, writers, researchers and career advisors creates "short stories" that people can relate to and find invaluable in their job searches. Our virtual library of 600+ short, high quality videos includes 50 videos on "how to" find a job, 24 videos on "how to" land internships/co-ops, and 600+ videos on careers (occupations). Our videos feature expert advice from professionals at 50+ global companies and can be used EVERYWHERE (social media, websites, job boards, emails & more).
Our Mission
CareerSpots delivers concise, compelling career readiness videos to help students learn and develop the competencies and job search skills needed to achieve career success as they transition to life after college.
Our Philosophy
At CareerSpots, we listen, and we respond. This generation of young adults is struggling more than ever to find work. We go directly to the source to find the best answers. Students, recent graduates, recruiters, career directors and company leaders play a key role in developing our video content. We are committed to creating top quality, web videos with critical, current advice that students seek. Whether students are looking for internships/co-ops, full-time jobs, or summer work, CareerSpots features today's leading recruiters, young professionals, and career counselors who know what it takes to be successful.